SP Smartians always has an eye on winning and once again they've proved this by securing incredible results in class 12th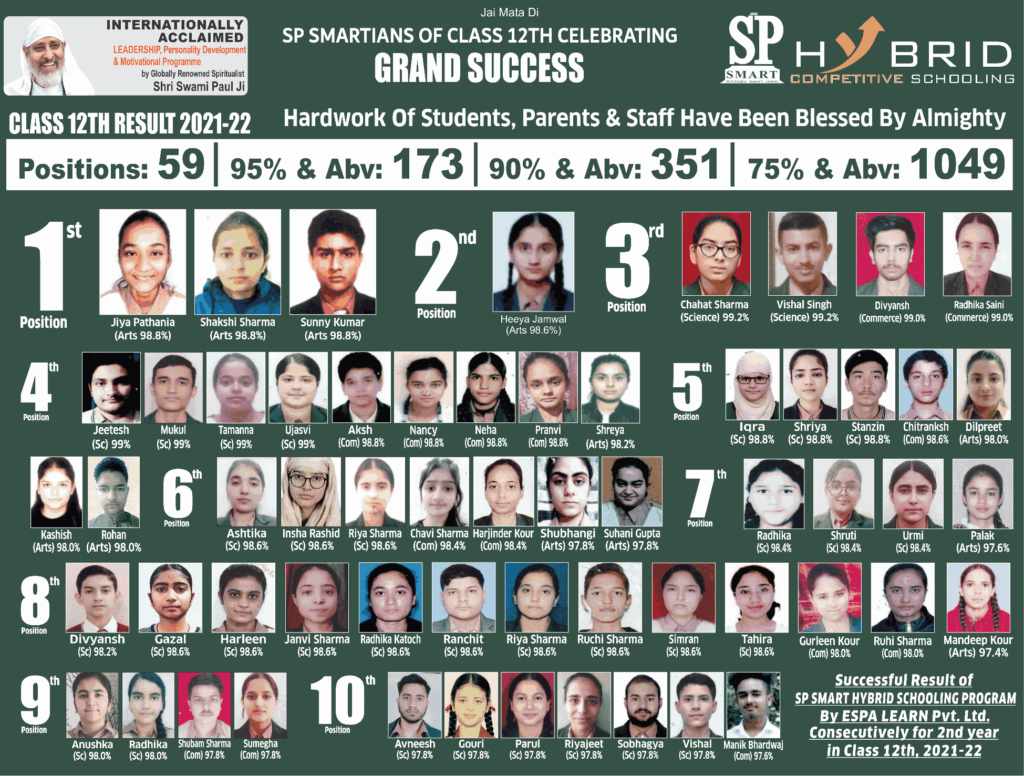 Jammu: The SP Smart Higher Secondary Schools have done remarkably well in the annual class XII examinations conducted by the JK Board of School Education and the results of which were released on Thursday, 30th June 2022.
SP Smart Higher Secondary Schools have witnessed a breakthrough performance in its students by securing a total of 59 positions. 3 students namely, Jiya Pathania, Shakshi Sharma, and Sunny Kumar shared the 1st position, while Heeya Jamwal got the 2nd position, and 4 students, Chahat Sharma, Vishal Singh, Divyansh Mahajan, and Radhika Saini, secured 3rd position in their respective streams.
Moreover, having implemented the SP Smart schooling system in SP Hr. Sec. Schools for the past 20 years, it has performed exceptionally fine in all results, leading to great career paths for students. Furthermore, the SP Smart Schooling System is an indigenously designed schooling system conceived through the efforts of a second-generation educationist family led by Mr. Shivang Satya Gupta who also started a promising Ed-tech start-up called ESPA Learn Pvt Ltd that that is making schools future-ready, accountable, and world-class within the affordability of commoners.
In addition, Replicating its success story and academic excellence, the SP Smart Schools have not only made another step to boost the spirits of its students but also have earned the satisfaction of parents whose wards study in the school.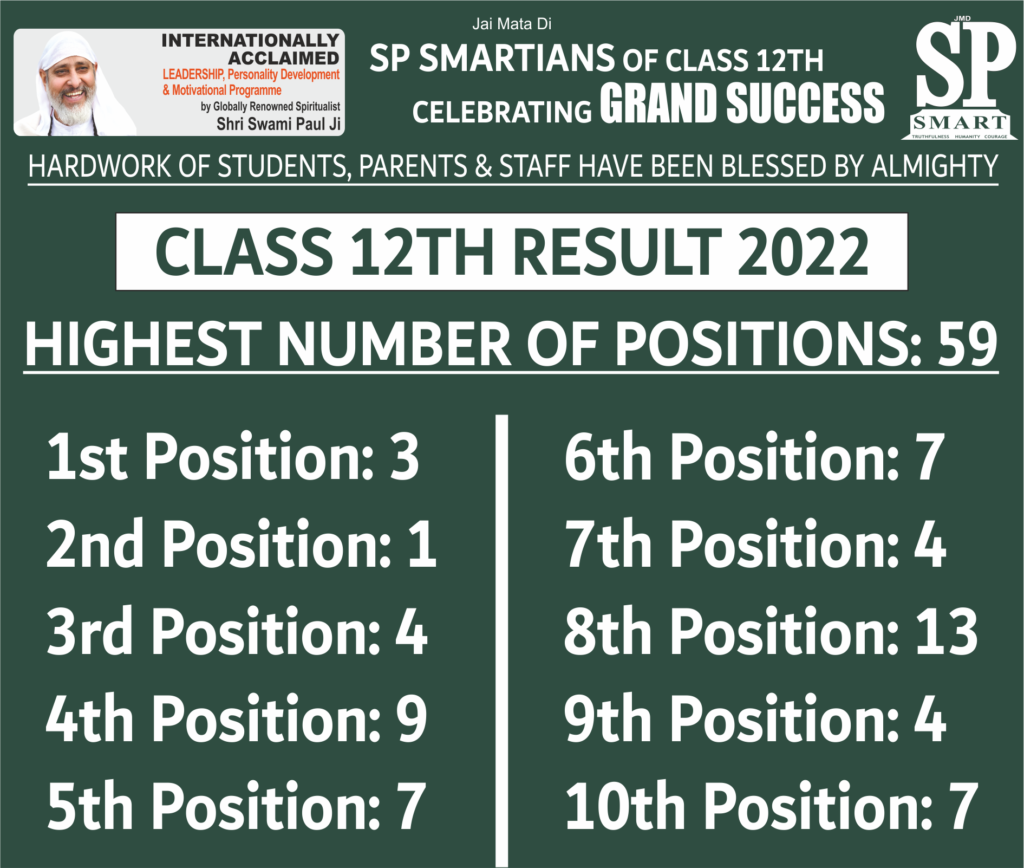 It is pertinent to mention that Sunny Kumar (SP smartian) who secured 1st position is a son of Smt. Neha Ji who works as a Class-IV non-teaching employee in the same school. He was studying on a scholarship given by the School Management.
The school has marked its presence in Jammu, Sidhra and Samba as well – all the branches have faired well in the merit list of the Class XII results with 173 students scoring over 95%, 351 students breaching 90% mark, and 1049 students securing over 75 % in Class XII results declared by nodal authority J&K Board of School Education. Every second student (SP Smartians) has scored more than 85% marks and more than 90% of the students have scored above 65% marks.
In fact, the school has proven that it is able to offer students of Jammu and Kashmir a different and unique ambience where they can excel without seeking private tuition to restore the credibility of educational institutions that had been damaged by students' overdependence on private tuition. Plus, the SP Smart Schooling system, which has a USP in specialized education, demonstrated that excellence can be achieved even without tuition in contemporary times.
In gratifying the students, parents, and the teaching faculty, Shivang Satya Gupta, CEO of SP Smart Schools said, "We strive to ensure that the right education is provided to our students at the school itself, rather than sending them to tuition centers."
"Our main motto is to restore the credibility among the educational institutions particularly the institutions that have been landmarks in Jammu's educational sector and create a niche for the school where a student does not have to worry about tuition but follow the unique learning process of the SP Smart Schooling system to excel in academics and life,"

Mr. Shivang Satya Gupta
In his opinion, every student ought to be given every opportunity to excel in their fields and to achieve the best possible future.