SP Smart School is a school that champions those who dare to push forward and one such champion was Khushi who joined SP Smart School when she was in 7th grade. Prior, she was in a different school where she was abjected about her academic performance and probably she saw some silver lining when she decided to join SP Smart School. To her delight, SP Smart School carve her path that leads to a major transformation not only in her academic scores but also in her confidence.
Khushi was a mediocre student with an appalling academic record, particularly she fails to decipher the concepts that form the basic pillar in cracking any subject understanding. Hitherto, her old school teachers simply use to teach the topic and considered their job done; however, upon request, they tried to explain more than once but still, her concepts were not getting cleared which made teachers irk and annoyed and left Khushi unattended. Later, when she joined SP Smart School that follows the SP Smart Schooling System things change for the better. She received all the attention and teachers knew about her weak grasping power and dedicated extra time to her to clear all her doubts multiple times. The end result was that her result was astoundingly super and she passed her board exam with flying colors.
The biggest difficulty she faced was she couldn't fathom concepts 1 or 2 times which kept her off the radar with the rest of her classmates. Moreover, she lacked confidence and had negligible communication skills thereby her marks were quite average incessantly, and she desired to score ninety's in her board exam without any extra help via tuition or coaching class. She merely was dependent on school teaching.
Khushi was adamant and she wanted to ameliorate her studies and understanding power, so she decided to be a part of Smartians. She joined SP Smart School while she was pursuing her 7th-grade studies because she heard the word of mouth about this school being the best school in academics and following a result-oriented system that intrigued and compelled her to do so. SP Smart School succored Khushi to clear her concepts umpteen times till she gained confidence about her concepts. But yet she faced difficulty in learning and understanding concepts and therefore she was shifted to the ICP program wherein teachers gave her all the amount of extra time after school hours and gave her one-on-one sessions till all her smallest doubts got cleared. In addition, her teachers were the driving force in motivating and supporting her.
Furthermore, SP Smart school follows the SP Smart Schooling System that focuses on teachers teaching skills and assuring that students understand all the learning concepts and remain focused throughout. It is a reliable and time-tested system that has proven to deliver its desired results. It has a series of the system-based learning process which is done at a micro-level and by the evaluation, various steps are taken by educators to accumulate the learning outcome and this chain of the process is repeated until the favorable result is achieved. Apart from academics, she was suggested to be involved in extracurricular activities like participating in debates, arts, and sports that helped her improve her soft skills.
Khushi's academic performance was boosted to a great extent. Despite not going to tuition or taking any coaching classes and solely relying on the school and its process-driven system, she secured 97% in her 10th board exam. Likewise, she gained confidence and her overall character evolved.
To find out how SP Smart School can help you achieve your desired score in any exam, please contact us.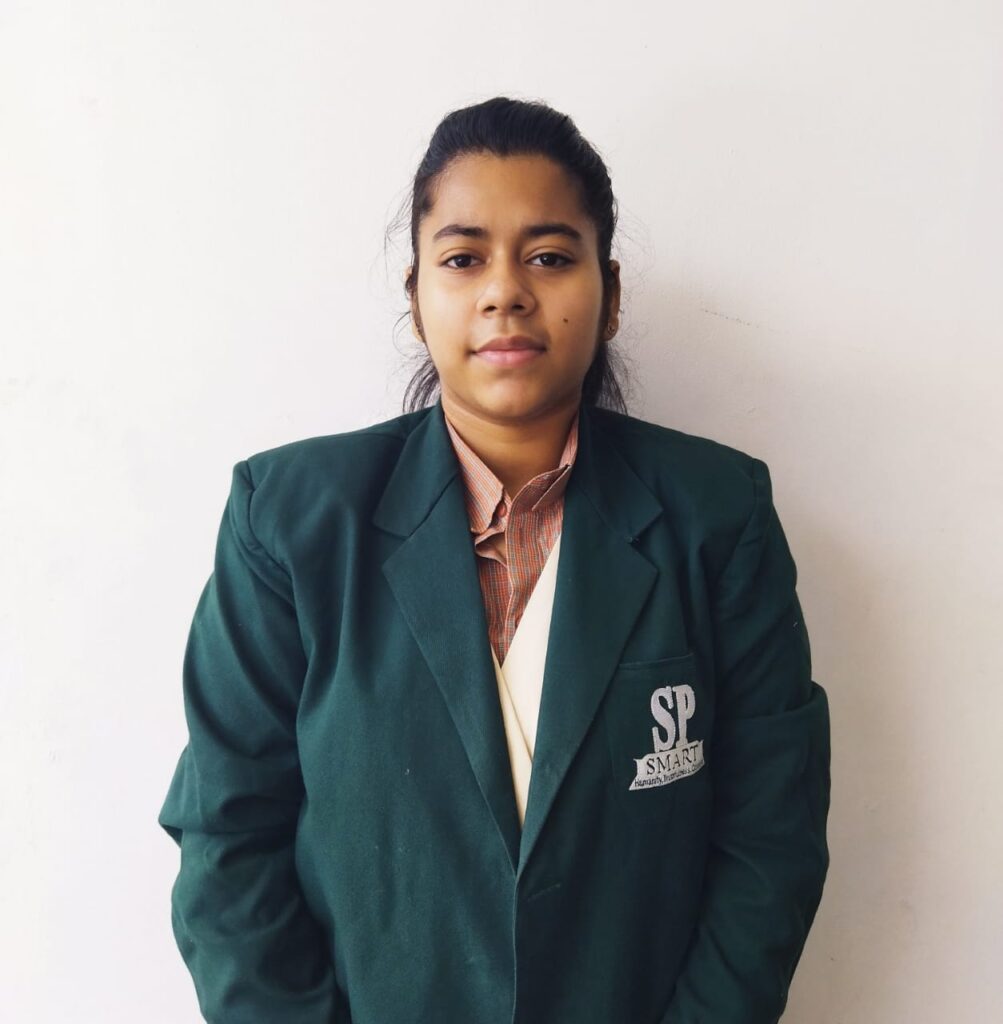 "SP smart School is one of the best schools in academics and I advocate everybody to join this school to build a bright future just like I did" – Khushi, ex-student of SP Smart School.

Khushi, Ex SP Smart Student
This article has been published in the following newspapers